When I was growing up, I imagined the home I might one day inhabit. It was usually a sprawling Victorian with lots of fireplaces and original (yet magically energy efficient) windows. Sometimes a humble yet spacious cottage stood in, or a ramshackle farmhouse with several quirky, adorable and utterly sound additions. The one constant? I'd have a spacious and thoroughly gorgeous kitchen that was homey, yet pristine and perfectly organized.

I never figured on having to be the one who was on top of things. Isn't it enough to remember what you need from the store, get it into the cart and pay for it? Seriously. In my world, that's cause for celebration.

The thing is, if you're not the sort of person who has either 1. a full time staff or 2. the innate ability to keep things neat and tidy, you end up with a big old mess of things. You make your peace with it. And every so often, you try to tidy it up, certain that this time - no, really, for really reals - you're going to stick with it.

I'm not that sort of person. But several months past, I found myself with a pantry full of stuff, much of which was going to waste since I had no way of knowing what was where. Something had to be done.

Unfortunately, the first thing I did was to break a large bottle of extra virgin olive oil on the floor of the pantry (which, by the bye, is only a cobbled-up closet the last owner slapped together in the wee tilty kitchen). Months of diligently opting for microfiber cloths went by the wayside as I unfurled an entire jumbo roll of paper towels to sop up the oily mess. Everything that had been on the floor was touched by the oil, but most of it was salvageable.




As for the pantry floor, I sprayed it with Simple Green and wiped it down. Then I mopped. Twice.


Once the main disaster had been dealt with, I decided the best course of action was to empty the entire blasted pantry and start from scratch.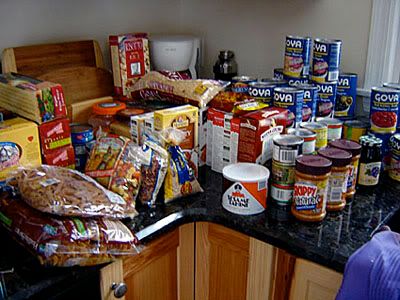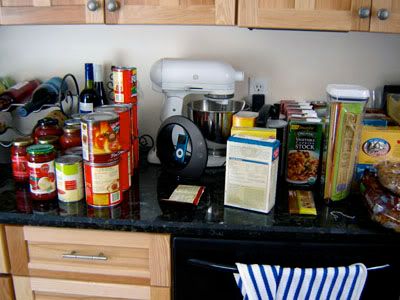 Who needs this many boxes of lasagne noodles?





Or this much coarse ground mustard?





Though everyone should have a full dozen cans of green chiles to hand; hey - you never know!





Apparently I fear running out of tinned tomatoes.






I'd say this is a silly amount of peanut butter, but then I think of how my sweetie goes through it...





So. Much. Stock.






I need this much cumin WHY?






But there is a light at the end of the insanely crazy dried goods tunnel. Here... the blank canvas (well, almost: those red bowls hold onions and garlic):






And the newly organized shelves: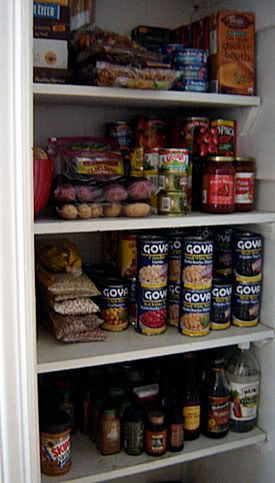 Beans!






Stuff what is needed for baking: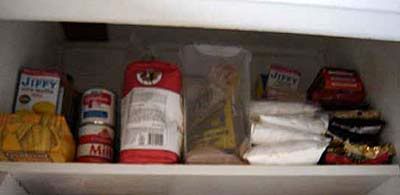 The Pantry door:






And my helper through it all: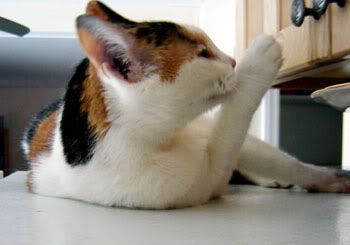 I'd like to say I kept up with this. I really, really would. But while I've managed to avoid dropping further bottles of olive oil on the floor, I've grown a bit lax in organization. I'm too ashamed to show you how it's fallen to bits; suffice it to say even the idea of posting current pics has shamed me into a quick pantry clean-up this weekend. After all, one of these days I might have staff to do these things for me; can't have them walking into a complete disaster.