I'm a very lucky woman: I enjoy my in-laws. My mother-in-law can be a bit prickly, but she really is a lovely lady, and for the most part we get on brilliantly. As for siblings, my sweetie has two sisters - one younger (B), one older (M) - and a younger brother (S), and I love the lot of them.
For some while, his older sister and her husband have been trying to find a weekend home in our town. We live in a beautiful area. Beyond that, everyone's close by. My mother-in-law and B and her family are in the same town as us. S lives but a reasonable drive away.
Anyway, they'd seen a great many properties (including the 55 acre spread behind our lot; the walk-through, right on the heels of an ice storm, was equal parts harrowing and hilarious), but nothing stuck until they came upon a renovated dairy barn waaaaay back on a windy country lane. It was two (three?) years ago that they first mentioned having seen this place. They were interested, but the seller wasn't quite ready to let go. Two (three?) years of ups and downs and wants-to-sell/not-ready-to-sell later, it was finally theirs.
They closed two weeks ago, and started moving in at once. The city brownstone is still their main residence, but this is their weekend/holiday retreat. Some of the larger pieces that never really worked in the city place have already been moved to the barn. Things in storage since they lived abroad are finally being shifted into one residence or the other. Knowing M. and her husband, there will be many changes made to the new house. For now, though, they have a thoroughly cozy space in the wilds of our beautiful town, and it's totally ready for company.
And so it was that on Mother's Day Weekend, we spent Saturday afternoon with them. M. produced an insanely delicious feast (and sent me home with more leftovers than I know what to do with). It was thoroughly lovely. So nice to know that all of my in-laws are going to be close by on a regular basis!
Full shot of the house from behind.
What was at my back while I snapped the previous shot: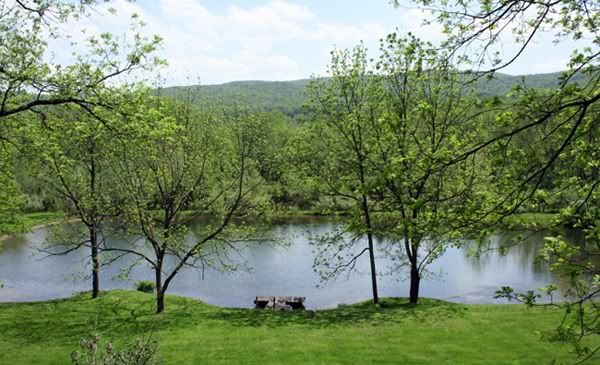 TITANS TOGETHER! (if they rebuild the dock, they SO have to keep this configuration)
Back up to the upper deck. Off to the left: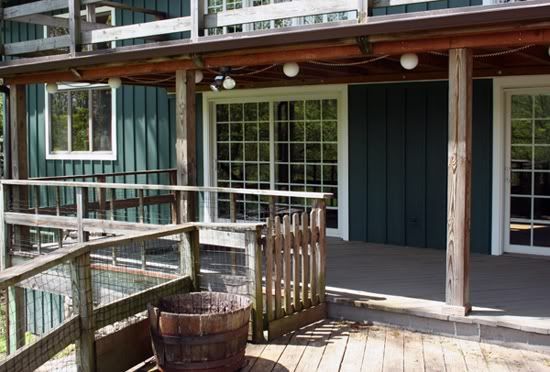 And the right:
At ground level (yes - that's a hot tub):
A goodly amount of the property is wetlands, but there is meadow, too: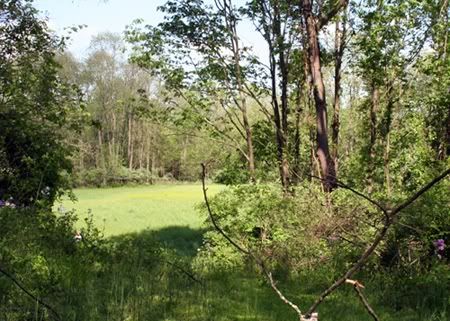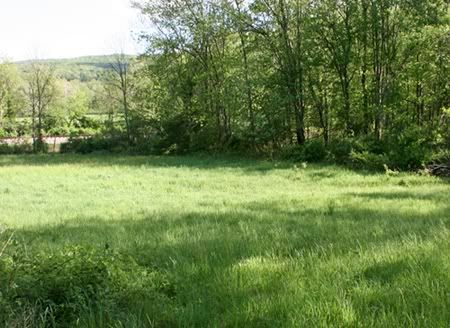 Undeniably remote. And yet -
AT&T, are you listening?
- I GOT 3G SIGNAL OUT HERE! Can't get it at home, in the middle of town, at the freakin' MALL TWO TOWNS OVER... but watching the deer bound by in the wide open fields? I'm connected.
Not that I'm bitter.
Except that I am.
Moving on...
There was cool stuff aplenty in the woods.
"... in which Kelly attempts at an artsy shot"
The amount of field garlic (which is, apparently, an invasive species) is bonkers. Must go dig up a bunch before it gets too warm. Then there's this wildflower, which grows
everywhere
. What is it?
Cookies (real or virtual - your choice) to the first correct answer!
(is likely Dame's Rocket, aka Hesperis matronalis)
Not bragging, but I totally called the horsetail ferns.

And then there were sightings of creatures in their natural habitat: the brother-in-law and sweetie...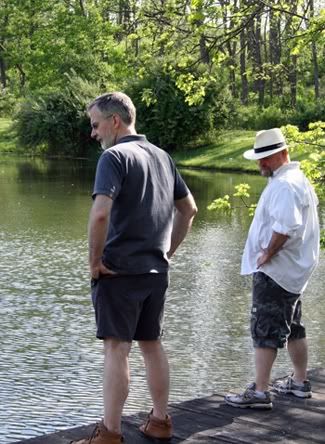 ...and the wild ginger niece.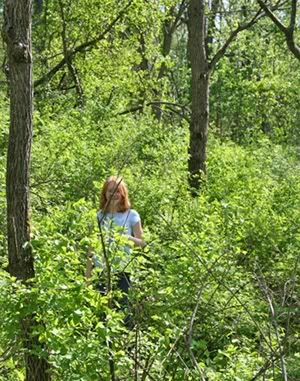 Koi!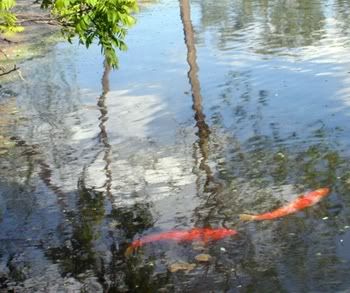 Or are they carp?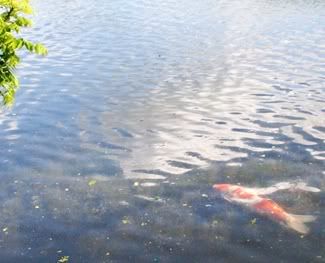 Please don't hate me because I don't know.
*scurries off to do research*
One thing's for certain: it's only a matter of time until I give them all names.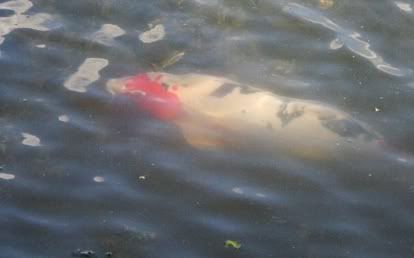 Feel free to submit your suggestions.
I've got pics of the inside, too, but that's a post for another time.