The first time we set foot in our quirky wee house, we were charmed by several things: the wood stove, the big bay window, and the wainscoted ceiling. It gave the main living space a warm, cozy feeling. After a few years, cozy turned to claustrophobic and warm became "what was the previous owner thinking?" This feeling only intensified when, as part of our great kitchen remodel, we completely redid the ceiling. Suddenly - magically, even - that tiny room seemed larger, brighter, airier, and though we only gained a few inches in height, it looked significantly taller. Headroomier, if I might say.

Don and I knew that someday we'd want to bite the bullet and do the same for the living room ceiling.



Yep. My BIG NEWS! is that we're ripping out the old crappy ceiling and putting up fresh, clean sheet rock. I do live the life.

I spent yesterday clearing out the entire room, shifting things into my office and Don's, with overflow going to the basement and shelves in the bedroom. As you might imagine, the kitties were an endless source of what they would call 'assistance.' I've got pictures to prove it. In the meanwhile, though, let me show you the crappy old ceiling. C'mon - it'll be fun!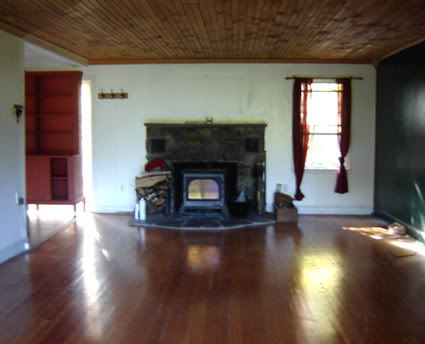 Taken from the 'formal dining room' with the bay window at my back. Apologies in advance for the dodgy quality of the photos. I was using my point-and-click and had very little natural light to work with. So. Off to the left is the kitchen, the only place we could fit that honking big hutch. In it's journey, one of the legs was compromised. We're ignoring that until it needs to be moved back. ANYWAY, the ceiling doesn't look so bad, right? Sure, it darkens the room a bit, but at least it was properly installed.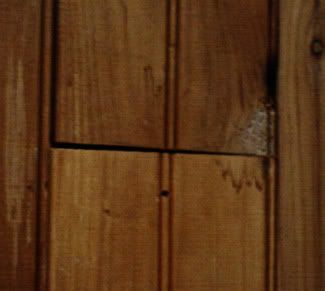 Except for the gaps between boards.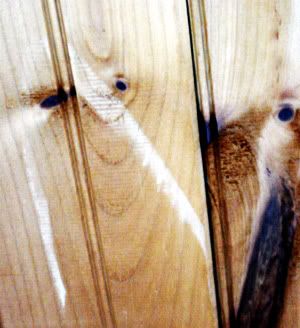 And the chalk marks that no amount of scrubbing would remove.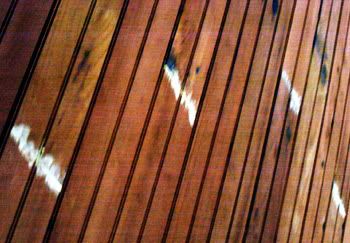 The previous owner does get points for using wood spackle on some of the seams. Equal points deducted for failing to sand it down.


Should I talk about the molding? Or should I just show you this: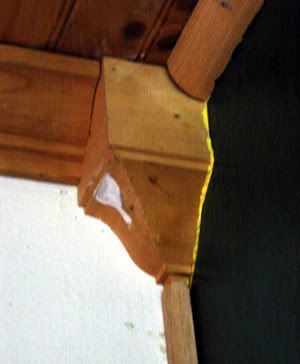 Yep. I think that speaks for itself. In complete gibberish.

From a distance, it's not as bad.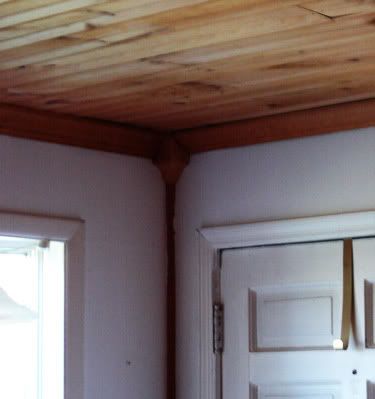 Unless you notice the crown molding no the left is markedly larger than that on the right. Unrelated but of note: even though it's only October, there's a wreath hanger on the door. Eager for the holidays or too lazy to put it away each year? I'll let you be the judge.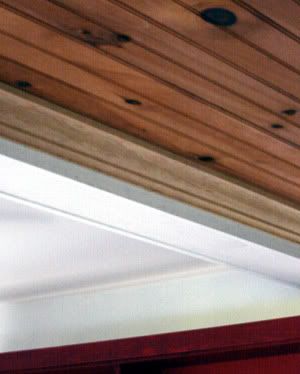 On the left, bright shiny kitchen ceiling. On the right, doomed wainscot. Let the transformation begin!