Blame
awomanthatsblue. She's been posting adorable photos of her childhood, so when I stumbled across a box of photos today, the seed had been set.

I adore my big sis. She's gorgeous and smart and funny. We're great friends, much as we were when we were wee ones. Sure, there was a sizable chunk of years in there where she'd throw rocks at me, hold me down and punch my shoulder, cry out, "You're not my sister!" (she'd also vow to give back every Christmas and birthday present I'd ever given her as a physical representation of our non-sisterness)... But that's all water under the bridge. Still, it's excellent fun to remind her of those rocky years. Over and over and over again. Love you, Ker!


Lounging at the pool. This might have been in Grams' backyard. I suspect Kerry had a mouthful of water, and that the moment the picture had been snapped she turned and spit it on me. In fact, let's just pretend I remember that happening. Good times.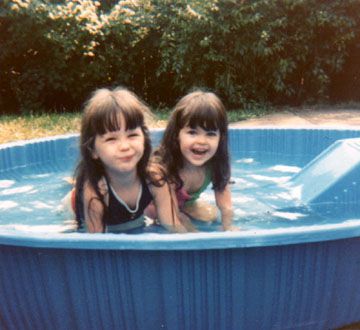 Young fashion plates. Kerry is rockin' the lemon sorbet ensemble while I own the pink-droopy-pants. My sister sweeps a strand of hair from her face, trying to distance herself from the sad, apparently tipsy toddler beside her. "Amateurs!" she cries, even though Mom has specifically asked us for the more traditional, "Cheese!"