1. WERE YOU NAMED AFTER ANYONE?
Nope. I was supposed to be sort-of named after my mom (she's Sue; I intended to be Susan) but when my folks looked at me, they decided I looked like a Kelly.

2. WHEN WAS THE LAST TIME YOU CRIED?
About half an hour ago, when I looked at this picture: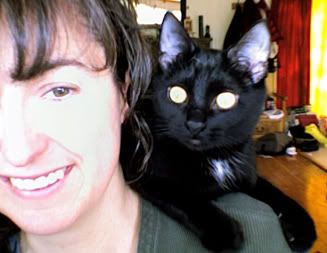 Every time I think I'm done falling to bits over this girl, I find that's not quite so.


3. DO YOU LIKE YOUR HANDWRITING?
Sometimes.

4. WHAT IS YOUR FAVORITE LUNCH MEAT?
Turkey. Oh, or home cooked chicken. Mmmm.

DO YOU HAVE KIDS?
No.

Not even a little.

IF YOU WERE ANOTHER PERSON, WOULD YOU BE FRIENDS WITH YOU? The me-at-the-gym persona? Absolutely. Otherwise... maybe.

7. DO YOU USE SARCASM?
I'm not terribly adept at sarcasm.

8. DO YOU STILL HAVE YOUR TONSILS?
No, nor my adenoids. They were removed by an ENT who looked like a supermodel.

9. WOULD YOU BUNGEE JUMP?
Maybe.

10. WHAT IS YOUR FAVORITE CEREAL?
Kashi GoLean Crunch.

11. DO YOU UNTIE YOUR SHOES WHEN YOU TAKE THEM OFF?
I don't usually tie them when I put them on, so... no.

12. WHAT IS YOUR LEAST FAVORITE THING ABOUT YOURSELF?
My weight my skin my painfully pathetic sense of self my stupid lack of chin definition my paralyzing fear of trying things lest I fail.

What? If there's no interstitial punctuation, it counts as one.

13. WHAT IS YOUR FAVORITE ICE CREAM?
Vanilla. And this time, I'm not apologizing.

14. WHAT IS THE FIRST THING YOU NOTICE ABOUT PEOPLE?
Smile.

15. RED OR PINK?
Red.

16. WHAT IS YOUR MOST FAVORITE THING ABOUT YOURSELF?
...

pass.



17. WHO DO YOU MISS THE MOST?
My dad. Zee.

18. DO YOU WANT EVERYONE TO COMPLETE THIS LIST?
No. I want there to be some mystery.

19. WHAT COLOR PANTS AND SHOES ARE YOU WEARING?
grey pj pants. no shoes or socks.

20.WHAT ARE YOU LISTENING TO RIGHT NOW?
Handsome Tom mewing at Don to pleasepleaseplease feed him now.

WHAT IS THE LAST SONG YOU LISTENED TO?
Space Doggity, by Jonathan Coulton

22. IF YOU WERE A CRAYON, WHAT COLOR WOULD YOU BE?
Hunter Green.

23. FAVORITE SMELLS?
Lilacs. Freshly baked bread. Earth, newly turned. Horses. Saddle leather. Vanilla.

24. WHO WAS THE LAST PERSON YOU TALKED TO ON THE PHONE?
My sweetie; he was calling to tell me what train he'd be on.

25. DO YOU LIKE THE PERSON WHO SENT THIS TO YOU?
Very much. :)

26.SPORTS TO WATCH?
UFC. Don't judge me. Don watches this ALL THE TIME. I get sucked in against my will and find myself modifying drills and attacks to use in class.

Also, anything equestrian.

And Ninja Warrior.

27. HAIR COLOR?
Brown and grey and red-ish and crazy.

28. EYE COLOR?
Baseline = hazel. It tends to grey or gold or green depending on what I'm wearing.

29. DO YOU WEAR CONTACTS?
Nope. I should wear my glasses a whole hell of a lot more than I do, but that's just not happening.

30. FAVORITE FOODS?
Avocados! I'm still mad fixated on these babies. Also, a simple, well seasoned roasted chicken. Asian spiced salmon over mixed greens. Potatoes any way you want to serve them. Sliced apples with natural peanut butter. Fresh picked tomatoes, still warm from the sun. Fresh bread. Wild raspberries.

31. SCARY MOVIES OR HAPPY ENDINGS?
Happy endings.

32. LAST MOVIE YOU WATCHED?
Hairspray, the musical. It was adorable.

33. WHAT COLOR SHIRT ARE YOU WEARING?
black pullover, grey sports bra

34. SUMMER OR WINTER?
winter, with lots and lots of snow.

35. HUGS OR KISSES?
I adore kisses, but I'm more likely to get hugs from a greater range of people, so I'm going with that.

HP or LOTR?
I'll be honest with you. There was no #36 on the meme I responded to. This is completely my question. I fully adore HP, but I had an amazing dream about honing my sword fighting skills with Strider, so LOTR wins.

37. MOST LIKELY TO RESPOND?
I'm not tagging anyone, so no pressure.

38. LEAST LIKELY TO RESPOND?
see above.

39. WHAT BOOK ARE YOU READING NOW?
An anthology of Fairy stories and a book about contracts/agents (thanks to
harpiegirl4.

40. WHAT IS ON YOUR MOUSE PAD?
It's plain red.

41. WHAT DID YOU WATCH ON TV LAST NIGHT?
Lost and Top Chef.

42. FAVORITE SOUND(S)?
Gloves smacking on a heavy bag. Rainfall. My kitties purring.Wind through the leaves.

43. ROLLING STONES OR BEATLES?
Beatles. Who are, in turn, trumped by Steeleye Span.

44. WHAT IS THE FARTHEST YOU HAVE BEEN FROM HOME?
San Francisco. While that was wonderful, it makes me sad that I've never been out of the country.

45. DO YOU HAVE A SPECIAL TALENT?
Nary a one.

46. WHERE WERE U BORN?
Hamilton, New York

47. WHOSE ANSWERS ARE YOU LOOKING FORWARD TO GETTING BACK?
I love reading the responses of all and sundry!