I acknowledge that most of my flist is far more fashionable than I; at the very least, you're better dressed at the most basic level. So. Three weeks from today, I've a party to attend*. I need a dress; should ideally be dressy but not crazy fancy. I don't want to spend a lot.
As for my body: I'm 5'7". Average build, curvy rather than slim. I'm high waisted - all leg, darn it, which makes buying anything fitted a bit of a bother. My psoriasis isn't too bad at present, so I don't think I need to worry overmuch about that. Also, I can wear black tights or stockings if I'm anxious about showing my legs.
Ideas (well, really just the one) thus far:
I was thinking of this** (views on and off the model):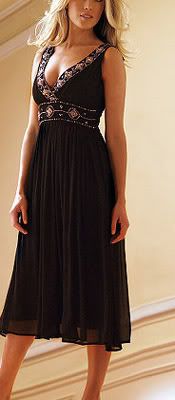 Not entirely sure, though. It might be too cleaveage-y. Any ideas? Suggestions? Tips? HELP!?
ETA:
just found out this dress ships on 12/25. I officially
hate
am very cranky with Newport News. fmeh.
Also, I just bought this: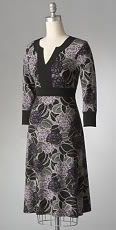 for my Dad's memorial service tomorrow. The photo doesn't do the colour justice - there's a lot of muted purple and green/grays. It's so not a
me
dress, I have no idea why I chose it. But I think is sort of looks good on me. Yeah. I said it. also, it was on sale, so I didn't freak completely about making the purchase. MAN, I hate shopping for myself. I'll be wearing it with black tights and my tall black boots (they have heels! as in over two inches! yeep!).
I hate how much this stress me out.
*the Club KO holiday party, where, as a fledgeling instructor, I'll be meeting all the staff of the other branches. I'd like to look good. Actually, I'd like to look gorgeous, but I'll gladly settle for 'neat and well put together.' So nervous. bah.
** The dress is $49. I figured I'd order it with the knowledge I'd still be looking for another option. Lo, the site tells me the dress will ship 12/25. Not remotely helpful. Ugh. I think I'll call the 800 number on Monday. Maybe this is a glitch. *sigh* This was my fall-back dress. I'm a wee bit cranky.
I feel:
anxious