One week from today, it will be Zinda's kitty-versary! In all likelihood she was born a year ago last week, but it was on the 15th of July, 2006 that she came into our lives.
I invite any and all of you to celebrate in this milestone however you so choose. Write a song, draw a picture, make
a macro
of an existing pic, share your favourite Zinda memory (fictional memories are welcome!), offer congratulations (to her or to her harried owners), write a Zinda/Lupin fanfic, whatever. Go nuts. Send them to me, either via LJ or through my email (on my profile page) and I'll put together a tribute post to the crazy eyed kitten who has totally taken over our lives for this past year.
Zinda-tagged entries
then: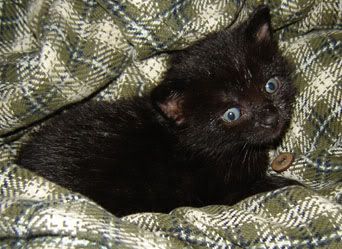 now (sort of, only she's usually in perpetual motion) :