While Zinda the crazy-eyed kitten is normally chock full o' naughty, she has her days where she does little but sleep. And believe you me, when this kitten sleeps, she
sleeps
. Her bones turn to silly putty. She is the melty cat, draped over various surfaces with a fluidity that brings to mind a
Salvador Dali painting
. Also, she is teh cute.
Someday, I really want to know what it is like to sleep so completely as a cat.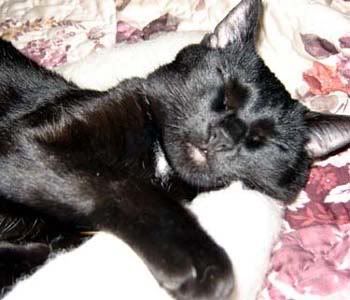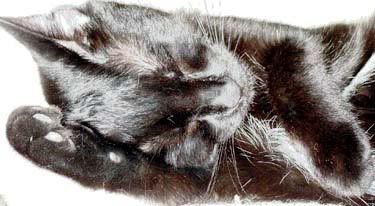 (just so you know, I had about eight or ten pics of her sleeping in various positions. every time I walked through the bedroom, she'd stretched out into a different configuration, equally adorable. I'm sparing you the endless variations)
Isabeau, while less melty, is also cute:
No sleepy Jilly pics, alas. I think she was in the linen closet or hiding downstairs. She hates that crazy papparazzi (ie: ME).
I feel:
mellow