Funny, this: I've lots of things I want to blither on about (kickboxing, this weekend past, clothing, why I need a personal shopper, cake, Lloyd Alexander, writing, The Diet, books, movie adaptations of books, T.A.R.D.I.S. t-shirts, etc.), but for now, I'll I've got is this photo-entry. Look on my garden, ye Mighty, and
despair
please wish me luck.
Not too much to see here. Strawberries in the foreground; the next patch is basil (not terribly happy), thyme, sage and parsley and, beyond that, beefsteak tomatoes.
On the other side, green beans in the front, peppers just beyond, and grape tomatoes in the furthest bed. They're flowering. The beefsteaks are not doing a darned thing so far (neither are they wilting/dying, so I shan't worry just yet).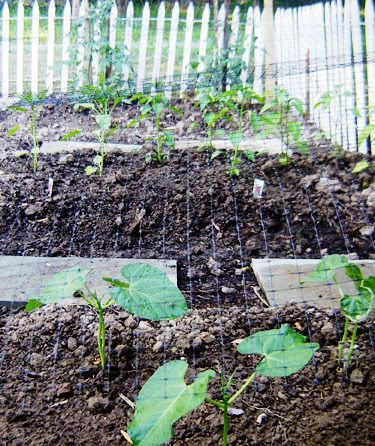 Violas! I can take no credit. I bought them in this planter straight from the nursery. They haven't died, though, so that's something. (erm... you may notice that I have very little faith in my ability to nurture green and growing things. It's just that it's not
intuitive
, not like with animals... guh. Think happy thoughts for me. I don't want to screw up this gardening thing)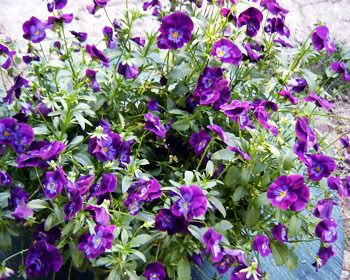 Tubs o' flowers. I chose them and replanted them all by myself. These tubs may stay on the patio (once it is reinstalled) or pop up to the back deck.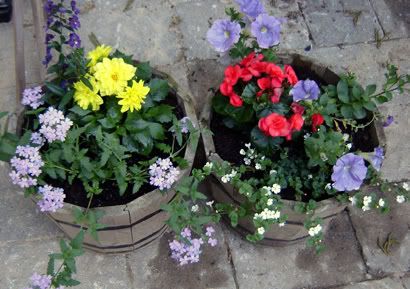 Hey, look! My nasturtiums are blooming! wooooot! I've got red and yellow and orange. Can't wait 'til they're in full flower. I am going to make a cake with the sole purpose of decorating it with nasturtiums. Even if the blooms are few, It will be a yummy cake. Never fear.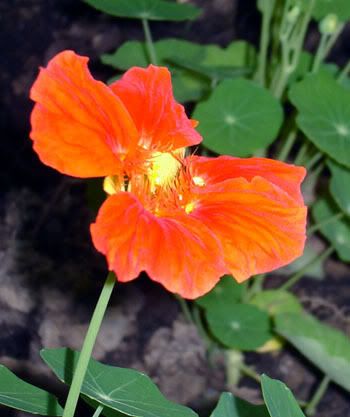 Two pots of lavender and my Faerie Tale garden creatures: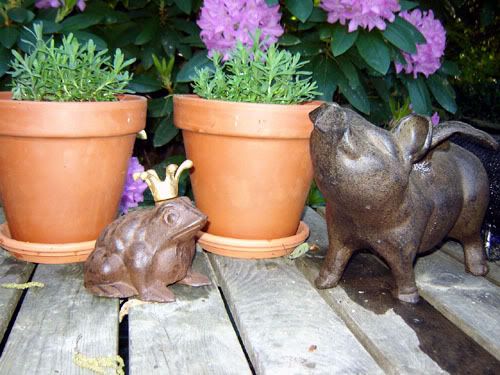 Know how I mentioned the basil in my garden was not happy? Well, I so very much want to be certain I have basil, I bought a few seedlings today (they were less then two dollars, so I didn't feel too badly about it) and planted them in the red pot. The blue pot holds catnip. The purple blooms in the background are rhododendrons, which are flourishing beyond all expectation.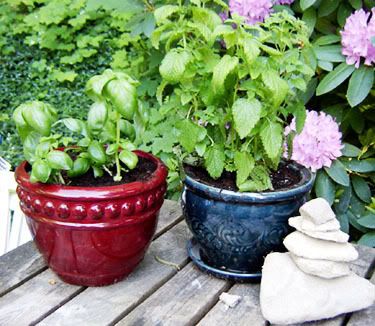 This one's for
kelleymck
: SWEET WILLIAM!
And, because Zinda's so ridiculously adorable, Crazy-Eyed kitten on the stairs: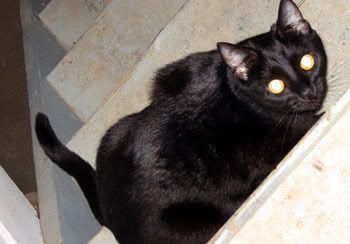 I feel:
productive