I'm sure I'm not doing it justice, but behold! my account of the Eclipse Prom:

So. Saturday was the Eclipse Prom. For those on my flist who are not in the know: Stephenie Meyer, author of the very popular teen vampire romance 'Twilight' recently released a special edition of the sequel, 'New Moon.' Among other goodies in the SE was the first chapter of the third book in the series, 'Eclipse.' To celebrate this release, an Arizona bookstore hosted a Prom: fancy dress, music, dancing, the works. Stephenie Meyer would be there to read the chapter and sign books. The event sold out in six hours. They added a second Prom. That sold out, too. People were flying to AZ from around the country to attend these Proms, but not everyone was fortunate enough to secure tickets, nor could most people swing the considerable cost of airfare and lodgings. So, Stephenie encouraged people to hold Satellite Proms.

One of our booksellers (I'll refer to her as T. on the off chance she doesn't want her real name used in my wee journal) thought our store would be a perfect venue. I agreed wholeheartedly. She approached management and community relations; her suggestion was met with a resounding eh. It was a yes - albeit a small and grudging one - and to be fair, management didn't quite get how huge this book is, particularly among teenaged girls. When T. mentioned the confirmed event on the Twilight Lexicon (the official board for all things Twilight and Stephenie Meyer), the response was fantastic.

T. took charge of the planning, and in two week's time pulled everything together. I went in early on Saturday (on my own time, since the scheduling had already been done and there were no extra hours. I'm either an idiot, a complete pushover or just someone who loves books and loves talking with young readers), about three and a half hours before the event was to begin, to help out. I let T. know that I was there to do whatever she needed. She was trying to focus on a hundred things at once - I was the one to send to get pens or pitchers of water or more titles for the recommended reading wall. We, with the help of some fabulous young ladies there for the event, got the space decorated with balloons and streamers. There were tables set up with copies of the Special Edition, as well as other Stephenie books. A fan art table was set up to one side, as well as tables with snacks and punch and bottled water.

The first Prom goers arrived (in fancy dress - yay!) at around 4:45. I scrambled to get myself dressed (I wore Ren Faire clothes with a fancy schamcy taffeta skirt and a tiara; I have a mortgage, dammit. Much as I wanted a real Prom dress, wasn't going to happen) and then hauled ass back out to the floor to help with last minute details. By the time we really kicked things off (around 5:30), there were around fifty kids in attendance. Some were in fancy dress, some were in nice skirts, others more casual still. Everyone - and I really do mean everyone was an absolute delight. The excitement of having a place to gather, to revel in their love for these books with people who felt the same - it was impossible to find a solemn face. My only real worry for the event had been that we give these kids their money's worth, as it were (since it was a free event). I need not have fretted.

People hung around, playing an icebreaker game, filling out trivia sheets for the raffle, and chatting. A little girl - clearly someone's younger sister - all pink-clad and rosy-cheeked, approached me with a plastic cup of Kool-Aid in her hand. "Is the punch red because it's supposed to be blood?" she chirped. "Absolutely," I replied. Awesome. T. read a couple of snippets from the preview chapter of Eclipse, and then she and J. and I moderated a book discussion. Actually, that was more of J.'s baby. I was the geeky-interjection girl. But the kids were fantastic. They've read these books over and over, and know every tiny detail, and WOW, are they passionate about the characters and the story. There were lots of theories as to what would happen, what choices would be made, what the symbolism (seriously! they were talking about symbolism) of the forthcoming cover might be. Smart, funny, insightful group.

Next was Prom Picture time. Most people brought cameras, but for the few who didn't, I offered to take pics on my so-so digital camera and email copies to them the next day. (note: I did so, only one girl's email keeps getting bounced back to me. I could cry. I hope she lives nearby and stops in the store and asks "Whaaa?" so I can say, "Aha!" and all will be well. She and her friend looked lovely, and I so want them to have pics!) Then there was the group photo, notable for the team of booksellers and Moms who gamely snapped shots on about a million different cameras for the kids who were posing.

After that was the raffle. The prizes: two copies of 'Prom Nights From Hell,' in which Stephenie Meyer has a short story, and several books I brought in from my personal library because I wanted to be sure we had enough cool stuff to give the kids (me=sap. and pushover.). At the last minute, one of the managers authorized a purchase of two copies of the Special Edition to give as a prize to those who'd come the furthest distance: Havre de Grace, MD. Seriously, that Dad deserves a medal. There were folks from way the hell away in PA, and also southern NJ. Long Island and Manhattan were represented, as well as points closer in both NY and NJ. I wish I could tell you who my favourites were, but the moment I start to think about one kid or group thereof, another pops to the fore. Honestly, this was a wonderful group. We finished up around eight (I think), cleaned up most of the mess and left the rest in the conference room to deal with this week. J. and I accompanied one of the girls down to the teen section so that we could recommend books for her; I ended up talking to two other girls (both ridiculously gorgeous; I do recall that) about contemporary teen fiction and adult chick-lit. I've promised them I'll read Meghan McCafferty's books. *** *groan* more for the 'to read, SOON!' pile!*** But they're going to check out 'Devilish' and 'Hope Was Here,' so it's all good.

T. and J. and their group all went out to eat after; I hung out trying to cobble together a few scrawled sentences. Took me forever, as my brain was complete mush. I finally got out of there around 9:30 (you're welcome, B&N! eight hours on me! I really am a fracking pushover). I don't mean to whinge, though. I had an absolutely fantastic time. I want to hang out with this group again and just talk books for a few hours.

We're hoping to do some sort of Eclipse release party. Pretty much everyone there said they would absolutely come back for that. *crosses fingers* We shall see!

Group photo!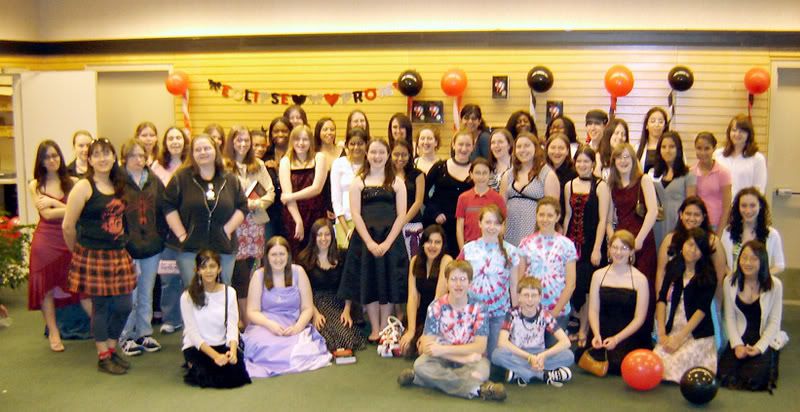 The team o' booksellers: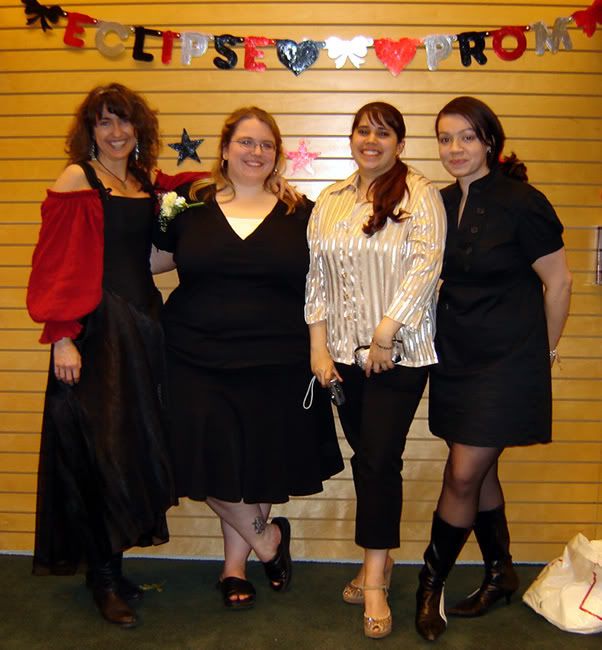 Sheesh. I look damned old next to those young 'uns.