This Saturday was Zinda's second weekiversary! To mark the occasion, I gave her a bath on Sunday. Much fun for all. Today was the second visit to the veterinarian. The good news: Zinda is negative for feline leukemia. The bad news: she's still not quite 100% with litterbox accuracy.
Between yesterday's bath and today's needles (bloodwork and distemper booster; more shots to come in four weeks! woohoo!) she was a mite cranky. To soothe her agitated spirit, I told her I'd post pictures of her for all to admire. She replied, "meep!" and tried half-heartedly to bite my hand.
So, here you go.
I mentioned in an earlier post she keeps moving toward the camera whenever I try to take a picture. Note the appearance of an abnormally large head: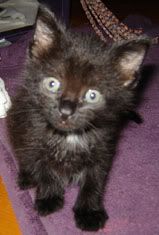 I'm just bragging here: look at that pounce! I tried to get an action shot of the pounce, but she moves so quickly and I promised I wouldn't show the ones where she fell over...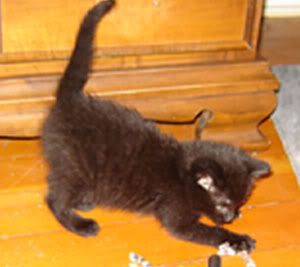 ...so she pounced directly at the camera. Seriously.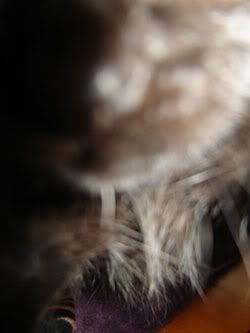 None of the shots I had gave you an idea of how much Z has grown. I took this a few minutes ago as she lounged in her box. The grey plush kitty in the bottom of the shot gives you some measure; Z was roughly that size when we first got her. Oh, and you can see that her eyes are turning green.
I feel:
hot