My town's arts organization is currently hosting
'The Mannequin Project:
People and the Environment/the Impact/the Connection.' Basically, that means that throughout the town, in store windows or outside shops or at relatively far flung locations (such as the Winslow Therapeutic Riding Center), there are shop window mannequins that have been decorated to meet the aforementioned theme.
The mannequins behind glass were nigh on impossible to photograph thanks to reflection/glare, but I snapped pictures of a couple that were out on the street to give you an idea of these pieces look like: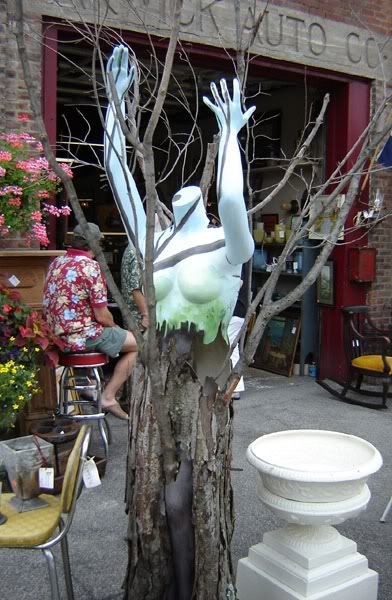 This one is outside of an antiques center. If you look near the bottom, you can see a leg emerging from the bark of the tree.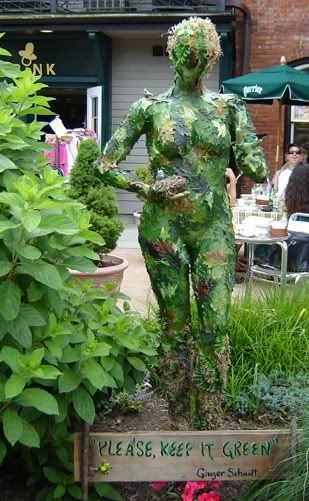 On the same street, just outside a cafe...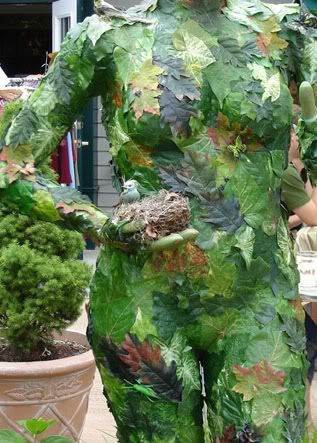 ...and a close up of some of the detail.
One of the shop windows features a mannequin entitled 'Mother Earth' made to look like terra cotta; her belly is swelling with life, and her head is a planter overflowing with greenery. Right next to her is a stunning piece painted with wildlife and lush greens. Ivy wraps around her arms and torso and beautiful black wings spring from her back. On her legs are stickers warning of toxic waste and contamination; this one is 'Violation of Trust.' There's also a fantastic Global Warming mannequin in the window of the music store.
Sadly, one of the mannequins being displayed outdoors was stolen. Sometime people just suck.
I feel:
enchanted